Led by Passionate People
The Institute for Global Education is volunteer-driven and led by the following board of directors:
Gerard Akkerhuis, Treasurer, Executive Committee, Social Media
Gerard Akkerhuis received a Master of Social Work from Grand Valley State University in 1990 and has been a volunteer in public service since then, serving on several boards.  Currently he is active with the Grand Rapids Industrial Workers of the World, the Kent County Green Party and the Grand Rapids Friends Meeting (Quakers).  In 2020, Gerard retired from his job at the Kent County Courthouse as a Clerk Typist after 22 years of service.
Ajla Alisic, Secretary, Executive Committee
Ajla Alisic started her college career at Grand Rapids Community College with an Associate degree in Philosophy in 2010. She received a dual Bachelor of Arts in Political Science and International Studies with a minor in Economics from Aquinas College in 2012. Ajla is currently pursuing her MBA. She immigrated to the United States as a child and is involved in the Bosnian community in Grand Rapids. As a refugee, she understands very well how devastating conflict, war, and genocide can be and how important peaceful resolutions are. Ajla volunteers her time with several non-profit organizations in town to help bring awareness and justice to a variety of social issues.
Amanda Bernés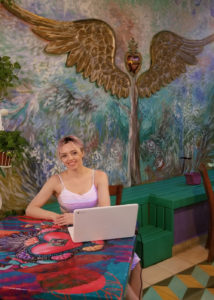 Amanda is a Licensed Master's Clinic Social Worker and has been trained in various therapeutic and medical social work settings. She enjoys teaching students as a guest teacher at various schools around Michigan. Whether via psychoeducational therapeutic groups, classroom settings, or speaking on the Capitol steps, Amanda enjoys helping people learn to live higher quality lives as they better understand themselves, their thoughts, their actions, and how these aspects impact their role in our greater society. Considering wellness of the body and mind has consistently guided Amanda's approach in creating a mindful, positive, and vibrant environment.
Chad Beyer
Chad's first interest in doing social justice education was a result of surviving as a gay young man in the heterosexist eighties and nineties. He continues to be motivated by the hard work of trying to be an ally. Most recently he is discovering what it means to live with a disability in an ableist world. Chad has been a professional social justice educator and consultant in Unitarian Universalist and other progressive congregations and non-profits. He served as an Executive Committee Member and Conference Chair with the Society for Intercultural Education Training and Research (SIETAR USA). As a Qualified Administrator of the
Intercultural Development Inventory, he brings a developmental intercultural lens to his work. He believes that this education is the work of planting seeds of love and curiosity about differences that will one-day flower as Beloved Community.
Brandan Bilski
Dan Hesse, Technical Support

Dan has been a progressive activist since 2018. He served as Secretary of the Grand Rapids DSA from 2019-2020.
Kim McKeon, Chair, Executive Committee
"IGE came to my attention 30 years ago thru my high school social studies teacher. I reconnected 5 years ago due to its values of building peaceful and just communities. IGE is involved in anti-war activities. It is a place to have voices heard, encouragement of diversity and equality. I was a volunteer especially with the Peace Festival and organized the Mandela Day Celebration."
Chuck Neller, Graphic Design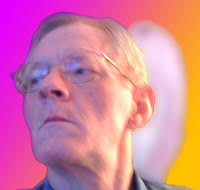 In 2004 Chuck Neller, among others, began videotaping monthly discussions of our group, together with members of the public. "IGE Talks" continues, but when topics present themselves rather than monthly. When it became affordable, we posted our videos at http://igetalks.org, where they are still available.
Kate Shockey
Back in high school, Kate won an award from the VFW for the highest score on test for the US constitution. She still has the bronze medal! The only reason she participated was to get out of a class. At the same time, she also quit saying the pledge of allegiance because she felt it was just mouthing words.