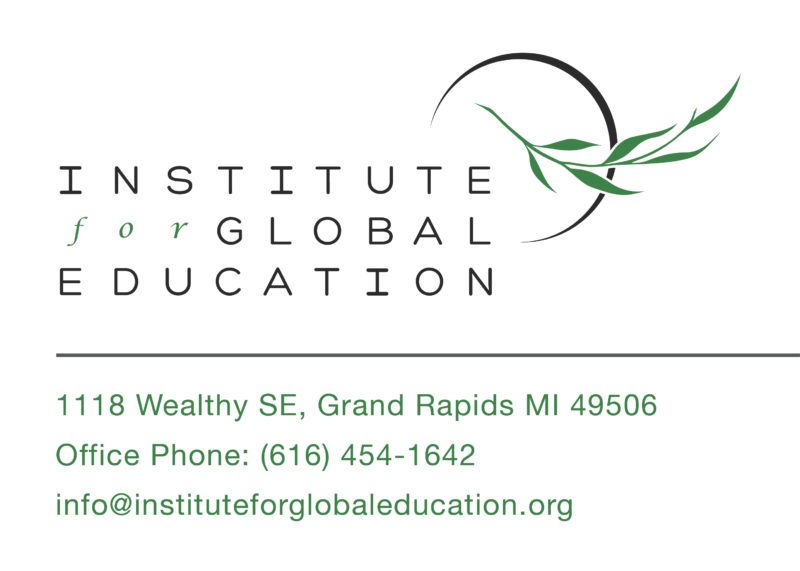 Email: email hidden; JavaScript is required                  www.facebook.com/InstituteforGlobalEducation
            Web site:  https://www.igegr.org
The Institute for Global Education opened its doors four decades ago. We have advanced causes of peace, justice, diversity, and non-violence in the West Michigan area. Think Globally Act Locally. We are now an all-volunteer organization and do this work with the financial and volunteer support of many friends like you.
In the past 40 years, we have accomplished much, but with your additional financial support, we can do even more. We have not asked for contributions in recent years but are asking now.
Two of our most dedicated workers died this year: Corrine Carey and Mike Franz. Their families have designated IGE as an organization to which you can make donations in their honor.
IGE appreciates donations at any level. IGE is a 501(C)(3) organization. This year, when you donate to IGE, there is up to a $300 deduction for cash donations (cash, check, credit & debit cards) without itemizing.
Send a check to IGE
Pay with a credit card through PayPal on our website
Stop by with cash
We have peace and justice items including T-shirts, Yard signs and Buttons.  These, along with IGE memberships, make great holiday gifts.
Again, thank you for your ongoing support.